Business Continuity and Disaster Recovery Solutions Keep Your Business Running
Be it a natural disaster, man-made accident, or hardware/software failure, multiple threats can disrupt your internet and phone service and wreak havoc on your business operations. And every minute of downtime means potentially lost customers and revenue.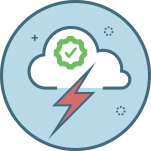 Telecom One's continuity solutions are designed with one goal in mind—to minimize the impact of unplanned events while keeping your operation running. Stay in contact with your customers, vendors, and partners at all times with our:
Advanced voice solutions – seamlessly forward or reroute calls on demand
Data networking – secure, redundant hardware and intelligent network routing for automatic failover in the event of an outage
Load balancing and managed failover – automatically balances your network traffic between two circuits and ensures failover should one go down
Wireless backup – automatically transfers calls, email, and internet to a wireless 4G network should you lose voice and data connectivity
With our business continuity solutions, you'll:
Maintain your high level of customer service and customer confidence
Ensure compliance with all legal and regulatory requirements at all times
Mitigate financial risk
Minimize disruption to your operation
Recover critical systems and files
Ask about Telecom One's hosted PBX/unified communications, and SD-WAN solutions that increase your network's resilience and redundancy.
Time for a more resilient infrastructure?
Fill out the form and we'll be in touch.